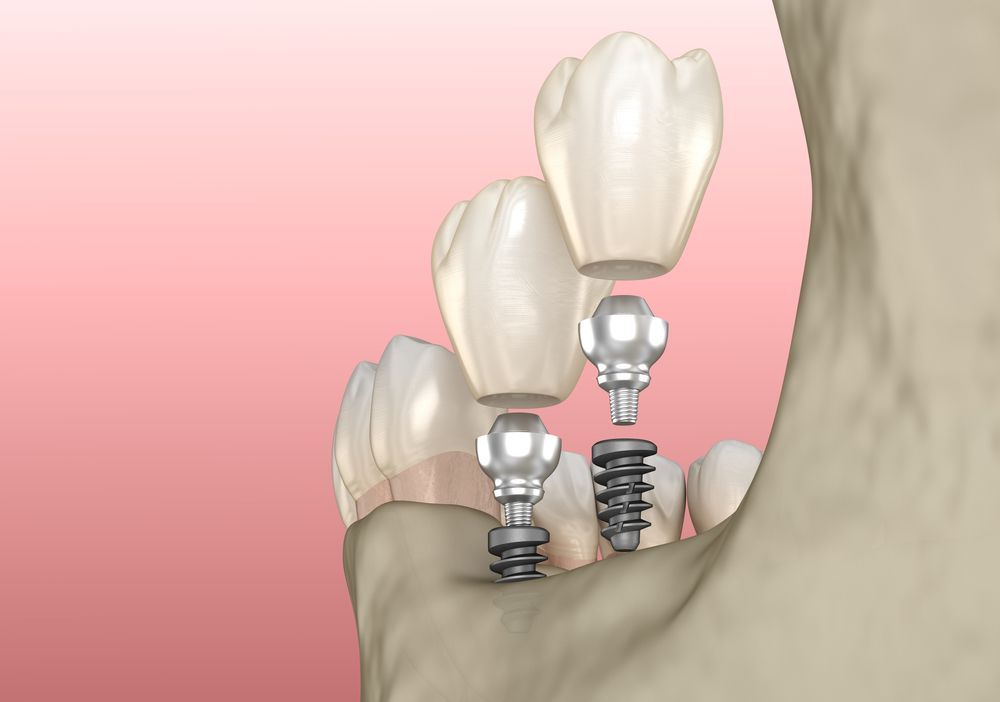 If you have many missing teeth, dentures are a great option, but they definitely have some drawbacks. Slipping and falling out are two common issues with dentures, but implant-supported dentures are a great solution to avoid these problems. Camelot Dental Group is proud to offer mini implants to patients looking to restore the functionality of their smile. Even if you are experiencing bone loss, a bone graft is not needed and will avoid months of healing and waiting to get your implants placed.
One-Piece Dental Implants
With a smaller diameter and only being one piece, mini dental implants are used when interdental space is narrow. Conventional implants consist of many pieces and are placed over an implanted post. Mini implants do not require an abutment as the top of the implant is a ball head, and this serves as the abutment.
The ball-head sticks out of the top of the gums when the mini implants are placed. Dr. Chris King and Dr. Paul King will make an impression of your mouth so that your dentures will fit precisely and accurately with these implants. Using rubber o-rings, your custom dentures sockets will fit to the ball-head tops of the implants. The fit will be precise, comfortable and stay in place wonderfully to give you an incredible solution to your missing teeth.
How Are Mini Dental Implants Used?
A variety of dental issues can be solved with the help of mini implants. You may need them to replace smaller teeth or to increase space in between your upper and lower jaws. If you are seeking partial or complete removable dentures, mini implant treatment may also be part of your treatment plan.
A mini denture procedure is minimally invasive. You can have these implants placed without the need for flap surgery or a bone graft. Your temporary denture can be placed immediately to restore your smile.
Mini Dental Implants in Columbus
Depending on how many teeth you are missing and where the teeth are missing, everyone's treatment plan for mini implants may look a little different. Our team is happy to sit down with you and discuss a plan that will suit your needs. The team at Camelot Dental Group cannot wait to help you love your smile again. Call today at 614-451-5115 to schedule your consultation.