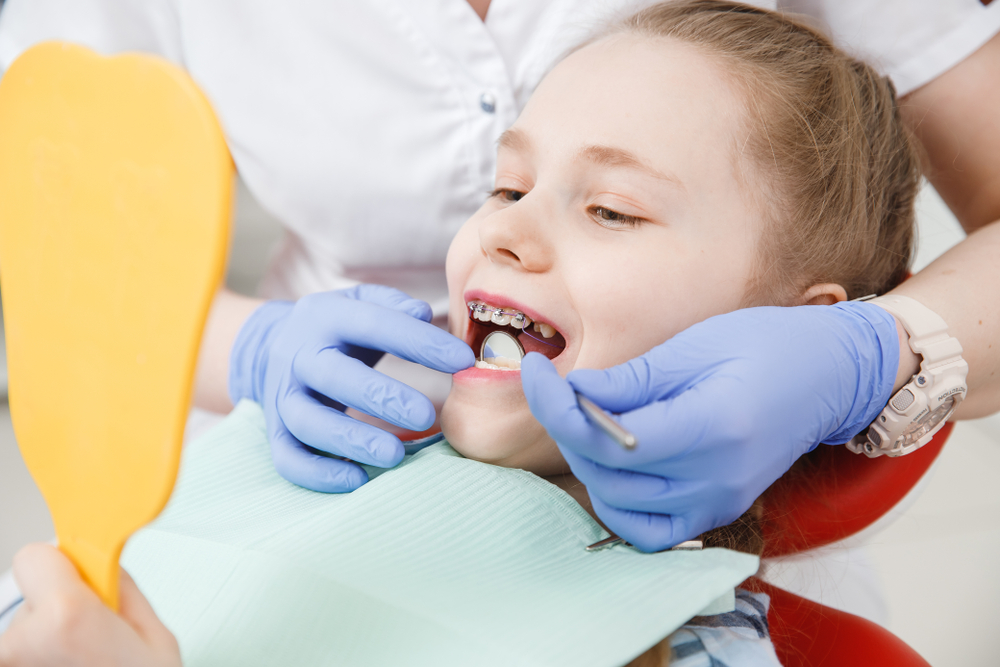 As children's dental health professionals, we are pleased to work with a wide network of oral health specialists dedicated to improving the smile of pediatric patients. This includes partnering with local orthodontists in Columbus for patients in need of braces, teeth straightening and any form of treatment for crooked and crowded teeth.
If you think your child requires orthodontic treatment, Dr. Chris King, Dr. Paul King and the team invite you to come visit Camelot Dental Group for an orthodontic evaluation and referral!
What Happens During an Orthodontic Evaluation?
The proper alignment of your child's permanent teeth and adult bite are fundamental for long-term dental health. Misaligned teeth, bad bites and crooked teeth can lead to all kinds of issues as your child's mouth continues to grow and develop.
The sooner any issues are caught, the better. In fact, according to the American Dental Association, children should receive an orthodontic evaluation by the time they are seven years old.
An evaluation in itself is quite painless and simple. First, Dr. Chris King or Dr. Paul King will examine your child's mouth and take x-rays to get a holistic picture of their teeth and bite development. From here, we will look over the x-rays with you and your child and explain any necessary next steps.
If needed, we will then refer you to our partner orthodontic specialists for the development of a treatment plan. Should your child move forward with orthodontic treatment, we will serve as a trusted partner between you and your orthodontist during this stage in your child's oral health journey.
How Do I Know if My Child Needs Orthodontic Treatment?
Every child is on a different timeline when it comes to their oral health development. If a child's adult teeth come in quickly and their mouth isn't big enough to support them, this causes crowding. Teeth also may come in crooked or misaligned. If left untreated, this can be detrimental later on.
At Camelot Dental Group, some of the usual symptoms we see in children needing orthodontic care are:
Adult front teeth coming in early
Jaw clicking or popping when a child opens their mouth
Misaligned bite
Problems when chewing or biting while eating
Irregular jaw structure
Widely-spaced teeth
Protruding front teeth
Asymmetrical face structure
While movies often make braces look scary, your child can rest assured that our orthodontic partners provide empathetic, kind care. Modern innovations in dentistry have also made the removable and fixed appliances used in orthodontics far more comfortable and discreet.
Common forms of dental appliances used for orthodontic treatment include:
Traditional metal braces
Clear or invisible braces
Permanent or removable retainers
Palate expanders
Your orthodontist will work with your child and their unique needs to determine which course of action is best in terms of both treatment and dental devices.
What Causes Common Orthodontic Problems?
Needing braces is a normal part of so many children's dental health. Oftentimes, a misaligned bite, crooked teeth, crowding and an irregular jaw are simply genetic or inherited. Occasionally, underlying medical issues within a family or birth defects may be the reason.
However, there are several causes of orthodontic problems that can be avoided as your child develops. Typical preventable problems we see at Camelot Dental Group are:
Poor or lacking nutrition
Poor dental hygiene
Sucking thumbs or fingers
Mouth breathing
Need an Orthodontic Evaluation for Your Child in Columbus and the Surrounding Central Ohio Area?
Are your child's adult teeth coming in? At Camelot Dental Group, we are pleased to serve the pediatric patients of Columbus and the surrounding Columbus. We provide comprehensive orthodontic evaluations and work with fellow professionals to straighten your child's smile. Call our office today for an appointment: 614-451-5115.